But I got a sweet tooth that'll never come loose
So I had the occasion to partake of Cookie Cake this weekend. Tasty as always, of course. However, as we were bullshitting around the table, we noticed something weird about the box that the Cookie Cake arrived in.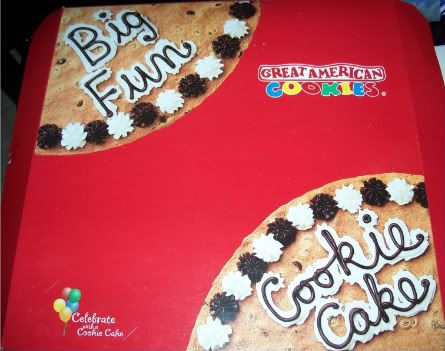 Sure, I know that they made those prop cakes specifically for the photo shoot... but what if someone walked up to the counter and ordered one?
That's a pretty Zen dude that orders a cookie cake with "Cookie Cake" written on it.
It's an even more Zen dude that gets one with "Not a Cookie Cake" written on his.
But the most Zen dude of all comes up to the counter right after those two guys and gets one that says "Armadillo."
$20 says I get that Armadillo cookie for my birthday.
Labels: Disturbing Thought Sunday, weird stuff