Pleasantly paralyzed, there's light enough for your eyes
Considering the knowledge put to us by the emminitely wise
Senator Stevens
, it was only a matter of time before some ubergeek managed to figure out a way for everyday folks to harness the power of the InterTube at home. Today, Google announced that they
are
that geek.
Sick of paying for broadband that you have to, well, pay for?

Introducing Google TiSP (BETA), our new FREE in-home wireless broadband service. Sign up today and we'll send you your TiSP self-installation kit, which includes setup guide, fiber-optic cable, spindle, wireless router and installation CD.
They go on to say that the service is capable of delivering up to 32 Mb/s download speed, and 8 Mb/s uploading (depending on what you had for breakfast)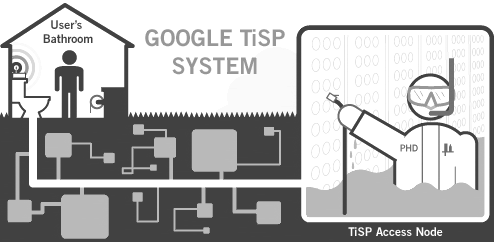 Given the way that I've been treated by
those fucking hacks
at SBC lately, I'm almost pissing myself with anticipation over this TiSP thing. It would be the number one thing on my list to do today, but I've got to go to church first... so I guess that makes it #2.