I can tell you how this ends, we're going to win this
Generally I don't make a habit out of posting all the silly pictures that float around on the Webinet, as you all well know... but This one so aptly describes the last month that it applies.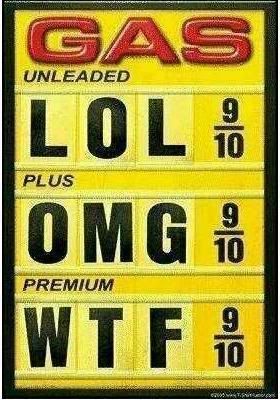 During the last month, at least, on every single occasion that I've had to purchase gas it's been the day after oil prices hit a record high. I caught it at $50, $57, $60, and $62. Each. damn. day.
Typically, I can go about 10 days when I'm just commuting and running a couple small errands, so I figured that I'd get some strategery and top off the tank in mid-cycle so I wouldn't get raped over a barrel. No such luck, I discovered that that was the day after oil topped $60.
By the time the my most recent fill-up came 'round, I didn't even bother getting out my wallet as I approached the register. I just dropped trou and told the clerk to take what she needed and I'd get on with my day.
Now you'll likely be asking yourself why I'm riffing on a trite subject like gas prices. Surely it can't be a sad excuse to post someone else's artwork and squeeze a lame chuckle of blood from the Intertron's stone... No friends, it's a simple public service that I do today.
I simply want to warn you all that my gas gauge is getting low again, so you'd be wise to beat the impending stratospheric price hike that will surely happen in about 3 days when I need to buy gas and the new record price for oil is so high it cannot be expressed in real numbers.