Let the whole world know that today is a day of reckoning
If there are any Americans left that cherish the freedoms they daily enjoy, might I suggest they get down on their knees and thank holy God that a band of right-wing religious extremists stood upon the courage of their convictions and pledged their lives, fortunes, and sacred honor to secure liberty for the rest of us.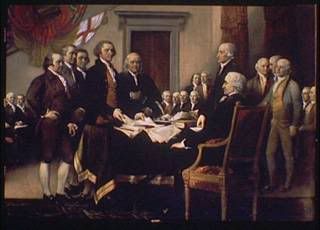 Incidentally, it's "Independence Day," not the "4th of July." Referring to this day just like we would any other cheapens what it stands for and what a monumental event happened in that sweltering Philadelphia courthouse 229 years ago.
Naturally, I have yet to see any media commercials call today by its correct name. I'm not in the least surprised, nor am I holding my breath. Call it
Flag Day
, part 2.